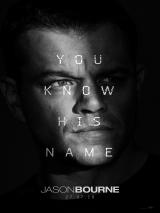 Jason Bourne is again being hunted by the CIA.
It begins when Nicky Parson a former CIA operative who helped Bourne who then went under and now works with a man who's a whistle blower and is out to expose the CIA's black ops. So Nicky hacks into the CIA and downloads everything on all their Black Ops including Treadstone which Bourne was a part of.

And Heather Lee, a CIA agent discovers the hack and brings it to the attention of CIA Director Dewey, the man behind the Black Ops. He then orders Parsons be found and hopefully Bourne too. Parsons makes contact with Bourne who told her to remain under but she tells him, she found out his father was the one who created Treadstone and that they were interested in him long before he joined. Eventually they find them and there's a chase. Dewey sends a special operative known as The Asset who tries to get Bourne but gets Nicky instead.

But before she dies she gives him something which leads him to the file she got and when he reads it, it ...
123 min

2016-08-10

United States